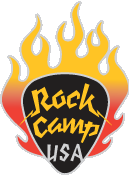 Since 1995, Rock Camp USA has featured intensive performance-oriented instruction given by some of the finest professional musicians in the country. Rock Camp USA has grown into one of the countries' top Camps, offering participants this once in a lifetime experience!
​
NOW ENROLLING:
FALL ROCK CAMP ATX!!!
North on Saturdays beginning 9/16
South on Sundays beginning 9/17
SHOW CASE ON 10/14
at Kick Butt Coffee (Airport Blvd)
CAMPS




- Opening Acts​​​​ (Ages 8-11)




- Headliners (Ages 12-18)




-Antimatter Garage (Advanced recording)​
Each session of Rock Camp is two weeks long and culminates with the young Rockers giving a live performance in front of hundreds of people in their own concert.

Rock Camp USA is the ONLY Camp where you record 2 songs in a studio, perform live at a real world venue and receive a multi-tracked and professionally edited Video of the show!


Rock Camp USA Activities:

*Form a band
*Pick your own material to perform
*Rehearse like Pros with Pros
*Write an original song!
*Refine your performance skills
*Record two songs with our professional sound engineers
*Improve teamwork abilities
*Attend clinics
*Play live at a local professional venue!
*Professional studio recording and a Video of your live performance will be available for download through our website!