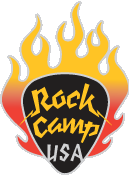 Opening Acts (ages 8-14) is open to beginners to musicians with limited experience. All you need is an instrument and a desire to rock! Camp is from 9AM till noon Monday through Friday with a concert on Saturday. Everyone gets put in a band and along with your teachers guidance work together to learn 2-3 songs to play live in front of hundreds of people. A professional video is recorded at the show and posted online to share with family and friends.
Antimatter Garage: is the name of our recording studio and as the name suggests is all about experiencing the recording studio. There is only 1 band per session and the students get to spend 6 days writing, recording and editing exactly like the pros do. Hosted by our multi award winning teacher Alex Marrero and recording engineer Russell Tanner to be selected for this camp you must have serious musical accomplishments, have attended Headliners Camp multiple times or along with a video audition must call for an interview.
This group also will perform at the Antone's concert.
Headliners Camp is open to musicians age 11-19. There is a list of minimum requirements listed on this web sight that are required to participate. Rockers are put into bands according to their age, musical taste's and ability level and get to democratically decide on some cover songs to play and we encourage every band to try and write and perform at least 1 original song. Headliners camp is 1-5PM Monday through Friday with the concert on Saturday.
There is much emphasis on rehearsing and improving your skills, working on stage presence and performance. The second week of camp each Headliner Band gets to go into one of our professional recording studios to record 2 of their songs. We multitrack and mix the songs just like we do for the hundreds of pro musicians that use our facilities, Anti-Matter Studios.
On the last Saturday of each session there is a concert at Austins world famous Antones venue in front of hundreds of people. Each band gets to play a set that is recorded by a professional video crew and posted online to share with family and friends.