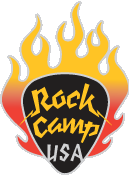 Frequently Asked Questions
Q: Who are the Rock Camp USA teachers?
A: The Rock Camp staff is made up of some of the most talented and professional musicians/instructors from all over the country, including some of Austin School of Music's own teachers. The are hand-picked by Rock Camp USA's Founder and Director, award-winning guitarist, Dave Sebree.
Q: What if I'm in a band?
A: Sign up! It's a great way to tighten up what you are already doing and to collectively expand your horizons. You can also use the downloadable audio and video as promotional material!
Q: What instruments are allowed in Rock Camp?
A: Electric Guitar, Bass, Drums, Percussion, Keyboards and Vocals, however we have been known to include a trumpet, saxophone, clarinet for quick solos in past performances!
Q: Is there any private instruction?
A: Yes, there is limited private instruction. Generally, if someone is seeking additional assistance on a song, we will assign a teacher to help. We also give clinics throughout each Session. The clinics are to help vocalists with projection and intonation, guitarists with tone and improvisation, bassists and drummers with grooving together and keyboardists with sounds, voicing and improvisation.
Q: Is Travel / Accommodation assistance included?
A: Transportation and accommodation is not provided or included with Camp tuition.
Q: Is this a day camp or an overnight camp?
A: Our camp is a day camp only and the hours are different for all three levels. See our Schedule/Signup page for times.
Q: Do Opening Acts Rockers have to have any experience?
A: No, some Opening Acts Rockers are absolute beginners. They do, however, need to know what instrument they want to play and must bring instruments and amps with them to Camp.
Q: Are Rockers placed in bands with other Rockers near their own age?
A: Yes, we take age into consideration when bands are formed. However, there are many factors involved when putting bands together, therefore, sometimes Rockers do end up in bands with wider age ranges.
Q: Are parents allowed to attend Rehearsals/ observe Camp activities?
A: In our many years of having Rock Camp, we have learned that parents being present at daily activities and rehearsals can be distracting for the Rockers. We prefer for family and friends to save the surprise of seeing the bands live for the big Concert!
Q: Do Rockers need to bring instruments with them to Camp?
A: Guitar, Bass, Drum, Percussion and Keyboard players need to bring instruments and amps. Vocalists don't need to bring anything (PA and microphones provided).
Q: What if I don't like the band I'm assigned to?
A: Although we do put a lot of care and attention into arranging the bands by age, musical interest, and overall compatibility, occasionally we encounter an issue with everyone working well together. In this instance we do our best to accommodate Rockers so that they are playing with musicians they feel comfortable with. Our overall goal is to ensure that every Rocker has a great time, learns new skills, and is excited to continue on their musical journey! Rock Camp was developed in 1995 and we have had several years to fine tune this program and make it a fun experience for all involved! If a Rocker feels that their skill level doesn't match up just right with their band mates, this is a great opportunity to work on leadership skills and to pull the band up to your level. If you are having a hard time keeping up, we will help you and you will make HUGE improvements! If you don't like the material that's been chosen by the group, SPEAK UP! Rock Camp is a microcosm of the experience of playing in a band. There are good times and bad times and it really is hard work. But, the rewards are tremendous!
Q: Do we really get to choose what music we want to play?
A: You will be put in a band with other Rockers who share similar musical tastes. Your teacher will then let you play songs of your favorite bands or if you have original music we can stream off Soundcloud or Spotify. The band will then vote on what songs to play. The only songs we will not allow are songs that use excessive profanity. We also help every band to collectively write one or more original song.
Q: Are there any other activities involved in Rock Camp?
A: Rock Camp is a fun and intense camp but we do take breaks to order pizzas or get snacks. These short breaks are important for the bandmates to bond, share ideas, and become friends. They do occasionally have opportunities to interact with the other bands as well. We do want our Rockers to have fun - but be prepared to work hard on the music!