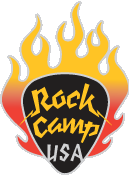 Terry Bozzio
Drummer (Frank Zappa, Jeff Beck)
"I've got nothing but good to say about Austin School of Music! I've personally played with Dave and he is an excellent guitarist who knows his stuff! The rest of the staff are great teachers/professionals who are wonderful with kids. I sent my son there for Rock Camp USA and was really pleased with the results. He had freedom to have fun but in a disciplined way, overseen by the teachers so he grooved well and played his parts correctly in the final performance! The facilities are top notch, including one of the best studios in Austin."
Chris Layton
​Drummer (Stevie Ray Vaughan & Double Trouble)
​"Engaged, committed and passionate; the people are great. Two weeks at Rock Camp, my son came out a changed player. Thanks Austin School of Music!"
Joe Layton
"Meeting and playing with new people taught me a lot. Rock Camp was fun and I got a lot better."
YaYo Sanchez
"I had a lot of fun! The kids and instructors were nice. Playing the Concert was fun and a good experience."
Helen Sanchez
​Owner, Baby Acapulco
​"This was a great learning experience for YaYo. He liked doing Rock Camp better than going on vacation. He's looking forward to doing it again!"
John Kujawa
"I went to my first Rock Camp when I was in 7th grade. After attending that first Camp, I was hooked and went every year since at least once, if not twice, and I have taken lessons from three of the teachers. I attended my last Rock Camp last year, as it was my last year of eligibility, and I have already been in multiple bands playing all around Austin and Dallas and I am pursuing a career in music at the University of Texas at San Antonio and soon at Belmont University."
Polly and David Randell
"We've been so proud to be associated with the Austin School of Music for so many years and its professional staff. Michael has enriched his knowledge and skills as well as having a proud and fun experience through his lessons and the Rock Camps. We thank you so much for making it all possible and now celebrate another Rock Camp this summer."
Ava Kovach
"Rock Camp gave me many opportunities to collaborate with musicians of my age group. The teachers are dedicated and encouraging, they truly seem to enjoy watching you perform. I have stayed with three members of my original band from Rock Camp and we play frequent gigs."
Pamela Barry
"Just a note to let you know what your Rock Camp program has meant to both of my teens. Dean is an old pro, now a Junior in high school, attending since he was 10. Rock Camp was his choice of all the summer camps he could attend. In the middle of the first week, he came home saying "Mom, I don't know what I am going to do without Rock Camp for the rest of the summer". You and the fabulous teaching talent have developed quite a musician in him, from drums to bass, to guitar and vocals, he has had chances to really spread his wings, and exercise his diverse interests. He has even been approached by producers and local professional musicians at the live show. My daughter Lauren is a vocalist more inclined to Western Music, but the year she attended Rock Camp gave her an appreciation and interest in Rock as well. Working with a group to create a band, and the comradery developed singing on KLBJ with all the other vocalists, were both wonderful learning experiences for her. All of this and a great program for parents at the Concert at the end...what more could you ask for? Oh, yes, a great video and CD to commemorate the event...and you thought of that, too. Keep on doing what you do!"
Michael Correa
"After attending Rock Camp for the past 5 summers, I feel that it has enhanced my ability to play in a group setting as well as matured me on a musical level. It has given me a love and respect for music and musicians that I will carry with me throughout my life."
Jarrod
"Rock Camp was such an awesome learning experience for me. This is definitely the funnest-EST thing I've ever done!"
Andy Welch
"Your son or daughter will absolutely love Rock Camp! And as a parent, you'll be amazed how much your child improves musically in just two weeks. The staff does an excellent job of pairing students with other young musicians of comparable skill. Each band then has a full-time counselor who works with the students every day to learn songs, record, and perform on stage like professionals. It's not easy work. Your child will practice 4 to 5 hours every day, leave Rock Camp tired and hungry, and eager to return the next day to play more music with new friends and band mates."
Phil Roach
"7 years ago, I attended my first Rock Camp. Within a few years, I had gone from struggling to hit the power chords on Blink-182 songs to writing original songs and performing them live on our top local radio morning show! There's nothing in the world like being put in a room with 4 or 5 other talented kids and making music in a structured environment with great instructors. And then you play the big Concert at the end! I can't think of anything else legal that is simultaneously so terrifying and exhilarating for a 13 year old kid. Now that us "first-gen" Rock Camp kids are all grown up, we're sending our brothers and sisters your way."
Russell Pinkston
"When it comes to teachers, The Austin School of Music seems to have its pick of the best young musicians in the city. My son studied with three different guitar teachers there, all of who were outstanding. But, I think the best thing about the School is their summer Rock Camp. Again, the instruction the kids receive is excellent, but more importantly, they get the invaluable opportunity to play music with other kids of comparable ability, and to perform in a real Concert together. It's wonderful to see those kids having such a great time with music on their summer vacations. And that same fun, camp-like atmosphere tends to fill the halls of the Austin School of Music all year long. In other words, "this is not your father's music lessons."